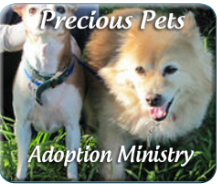 Petmobile's Precious Pets is a 501(c) non-profit charitable organization founded by our own Dr. E. S. Henson. We take in dogs and cats that have no one to love them, we temporarily house and care for them, and we search for loving owners to adopt or foster them. We believe that no pet should die without love and medical care. Instead of euthanizing these animals, Precious Pets aims to get them back on their feet and into loving homes.
Please help us find Furever homes for our Precious Pets.
To Adopt or Foster, please contact Lesa at orangecrush569@gmail.com or call 972-423-7387.
Be sure to check back often to see if there are any Precious Pets that need your help!
Available for Adoption/Fostering
Cat-Noel 9+ year old, male, orange tabby. He is a senior cat with special needs. You would need to have multiple litterboxes in your home. He is a very sweet, affectionate boy and loves to be pet. Please help us to find our boy, Noel, a furever home.
Dog-Frankie-8 years old, male, white Poodle mix. He is a senior dog with special needs. He is currently going through heartworm treatment and will need to be given heartworm prevention afterwards. He is very sweet and would make a perfect lap dog for someone. Please help us find our senior pup a furever home.
Cat-Midnight-6 years old, neutered male, black domestic short haired. He is up to date on his vaccines and ready for a home. Please help us find him a furever home.
Cat-Truffles-11 months old, female, orange tabby. Very friendly girl. Would make a perfect additon to any home. She is up to date on her vaccines and will be getting spayed. Please help us to find this sweet girl a furever home.